MRB6175
CAR DETAILING PERTH – Mining vehicles
Specialists in maintaining mining company fleet.
CIVIL AND MINING CARS, TRUCKS AND VANS
Our red dust removal service is a specialised service suitable for trucks, vans and wholesale cars. Fontaine Auto offers a service specialised in preparing mining, commercial and civil vehicles for sell. We specialise in red dust elimination, seats and interior panels removal for an excellent quality job. With our warranty of an excellent quality job and the number of Mining and Civil Companies we do work for, be assured Fontaine Auto is the best option for your car.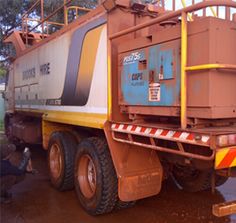 From 4WDs to Trucks. We can help you restore mining vehicles in the worst condition and make you earn money, we thoroughly remove red dust from engine bays, interiors, underbody, we repair rust, among others. So, you can be assured that you will get the best and most complete service with us. window tinting or any glass issues leave it with us. For a professional work and full service choose Fontaine Auto and give us a call on 1800 237 935
PRE-SALE DETAIL
At the time of selling a car the first thing you need to ask yourself is, Would I be able to sell it for the amount I would like?. Therefore, it is crucial to be able to reduce the gap between desirable price / real price. There are different factors that affects the selling price, for instance, KMs, Year of the vehicle, performance, condition of the paint and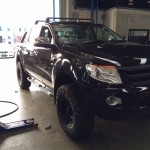 interior of the car. However, this gap can be minimized by effectively solving those issues time causes on second hand cars, which makes them harder to sell. Those issues can be more or less easily solved depending on level of the issue. For instance, broken windscreen, timing belt, clutch issues, cosmetics problems such as faded paint, oxidized headlights, worn tyres, trim deterioration, red dust, overdue servicing are issues that reduce the value of a car.
Fontaine Auto can help you detail, restore or "whatever you would like to call it" your car, from red dust, to rust and paint. We are the best in town and will make you get the money you want
How can Fontaine Auto help you rich your desirable selling price?
Our team of qualified mechanics, auto glaziers and detailers can help you with almost any mechanical, glazing and cosmetic issue your car may have, from big issues such as clutch and timing belt replacing to smaller ones such as new tyres, minor servicing, dents and scratch removal, full details and interior odor removal, red dust removal
Do you maintain company fleet?
yes we do, Fleet maintenance is our speciality, our quality workmanship competes with our bigger competitors. Fontaine Auto offer you excellent quality work, top brands, and more affordable prices and convenient service. we offer mobile tyre service and drop off- pick up service for detailing.
Give us a call on 04 81 520 367 or email us to service@fontaineauto.com.au for all your fleet queries
How does it work?
Very simple, we offer you a free car assessment where we take the time to assess your car mechanically and cosmetically and be able to tell you whether your car just needs a full detailing, or needs something more complex such as tyres, paint or mechanical work, and moreover, customise a cost effective package to help you save money and reach your desirable selling price which is the aim of all this.
Just give us a call on 1800 237 935 or 04 68 525 600 and we will book you in for free car assessment at you door step or bring the car in our workshop
Important to know, in order for us to be able to give you a quote, a free vehicle assessment is required
Mining Company fleet maintenance services available at Fontaine Auto are: Detailing, underbody rust proofing, paint work, rust repairs, mobile tyre service, batteries, windscreens, servicing
Travail de pro (Red dust, civil & mining vehicles, trucks & van detailing)
THIS IS WHAT WE CAN OFFER YOU
red dust thoroughly removed (interior & exterior, engine bay)
Windscreen Replacing
Window tint fix up
Minor servicing (up to 11 Lt of CASTROL synthetic engine oil)
Body work: fixing of dents, scratches, new paint job
New tyres, wheels
Underbody cleaning, painting
Tray restoration
just ask us what you need and we'll do it
Fontaine Auto means best quality work and cheaper
Extra Services:
Mining company fleet maintenance
Full detailing, underbody rust proofing, paint work, rust repairs, mobile tyre service, windscreens, batteries, servicing
Truck Wheels &
Tank polishing, Alloy Bull Bar polishing
Time makes truck wheels, tanks and alloy wheels loose gloss. In order to restore the gloss so the vehicle alloy looks like new again a proper polishing is essential. At Fontaine Auto we bring the gloss back on trucks and bull bars. We specialize not only in the polishing of truck wheels and tanks but also alloy bullbars
Book your auto detailing service now by calling our office on 1800 237 935